September 11, 2015 5:07 pm
September is upon us, marking the end of our sparrow photo competition!
We enjoyed having our days brightened by your wonderful photos throughout the summer, receiving submissions from throughout Malta, and even beyond!
Unfortunately, although the quality was fantastic, the number of entries was lower than anticipated. For this reason, we decided to revise the final procedures. We had intended to hold a public exhibition in which visitors could vote for a winner. However, we determined there to be an insufficient number of photos for an exhibition and instead picked our own favourites.
Thinking we'd gone for the easiest solution, we soon found we couldn't be more wrong! Trying to choose between your fabulous photos was a very difficult challenge indeed! In fact, we ended up awarding far more runners up than planned as we simply couldn't choose! On this note, I'm delighted to share the results with you today!
First off, these are our runners up…

Marija Micallef – "Sharing a Pizza"
We loved the cute concept and were glad to see evidence of positive relationships between people and Maltese wildlife.

Jacqueline Klein – "Sweet House Sparrow"
We were very impressed with the way Jacqueline managed to capture the motion of the scene.

Mario Borg – "Sunset Moonrise"
We loved that it captured both a male and female, and thought that the light cast by the sunset added a uniquely rich colouring.

Martin Seychell – "Spotted at facade of San Niklaw chapel, limits of Siggiewi."
We loved the way he was curiously peering out from atop a structure, like a king surveying his land!
And now for our winners…
Our under-12s prize was awarded to Michael Spiteri. His father, Neil, explained that they had noticed several sparrows regularly returning to their garden so had scattered seeds out for them. We were glad to hear how much they enjoyed the time spent together watching and photographing the sparrows. And at just 8 years old and using the camera for the first time, we were really impressed with the clarity and composition of the photos. Michael sent several submissions which were all brilliant, but this one was our favourite. Michael will be receiving a prize pack with all kinds of fun nature-themed kids' treats, such as a nature colouring book and a pair of wildlife-watching binoculars.
Our top prize winner was Daniel de Castro whose winning photo shows a "Male Spanish Sparrow ringed as part of an International Conservation Program for this species in Malta". We loved the beautiful colour palette and were so awestruck by the quality that it was a unanimous decision! Daniel will be receiving various nature-themed goodies, including a book and a t-shirt, as well as receiving our grand prize of a one-to-one wildlife photography workshop!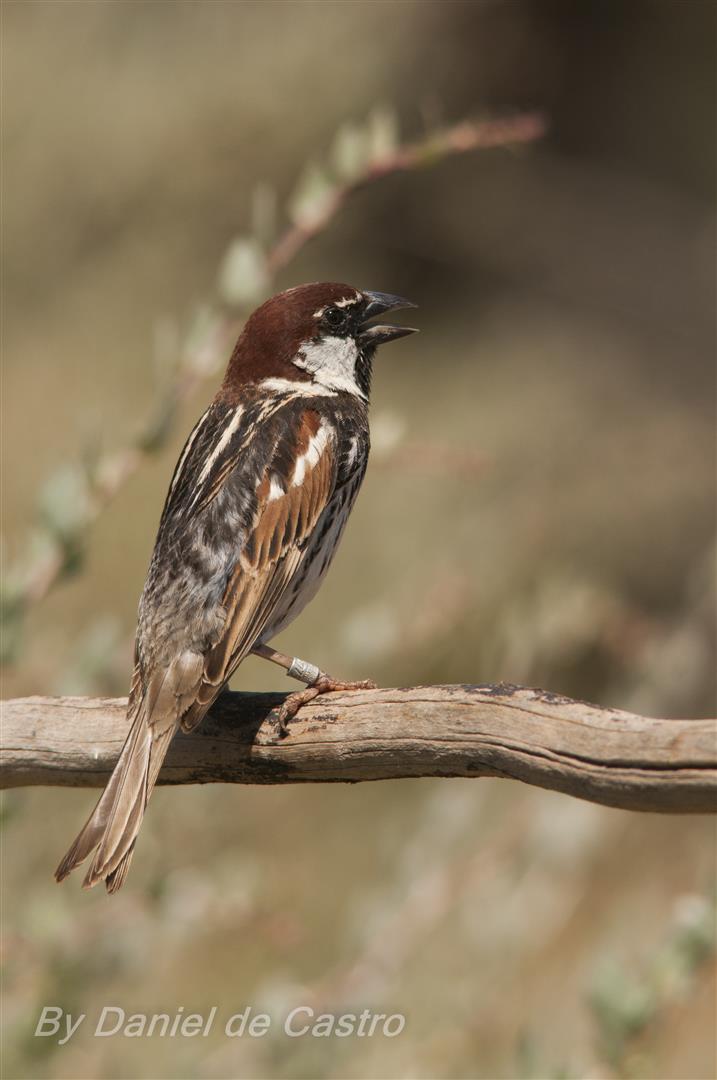 Congratulations to our winners and thank you to everyone who took part!
Although you'll no longer be eligible for any prizes, we'd still love to see your photos of sparrows. So please keep sending them to us at [email protected] or post them on our Facebook page.
Remember to keep an eye out for sparrow roosts in Malta this winter and report any you find to our website. This takes under a minute, but contributes valuable data towards citizen science. Please also see our Facebook page to keep up to date on our latest events and activities.